Traditional media companies have been at the epicentre of digital disruption. To embrace this new reality, we partnered with Pageant Media to transform and grow their business. To date, they've doubled in size, staff and turnover.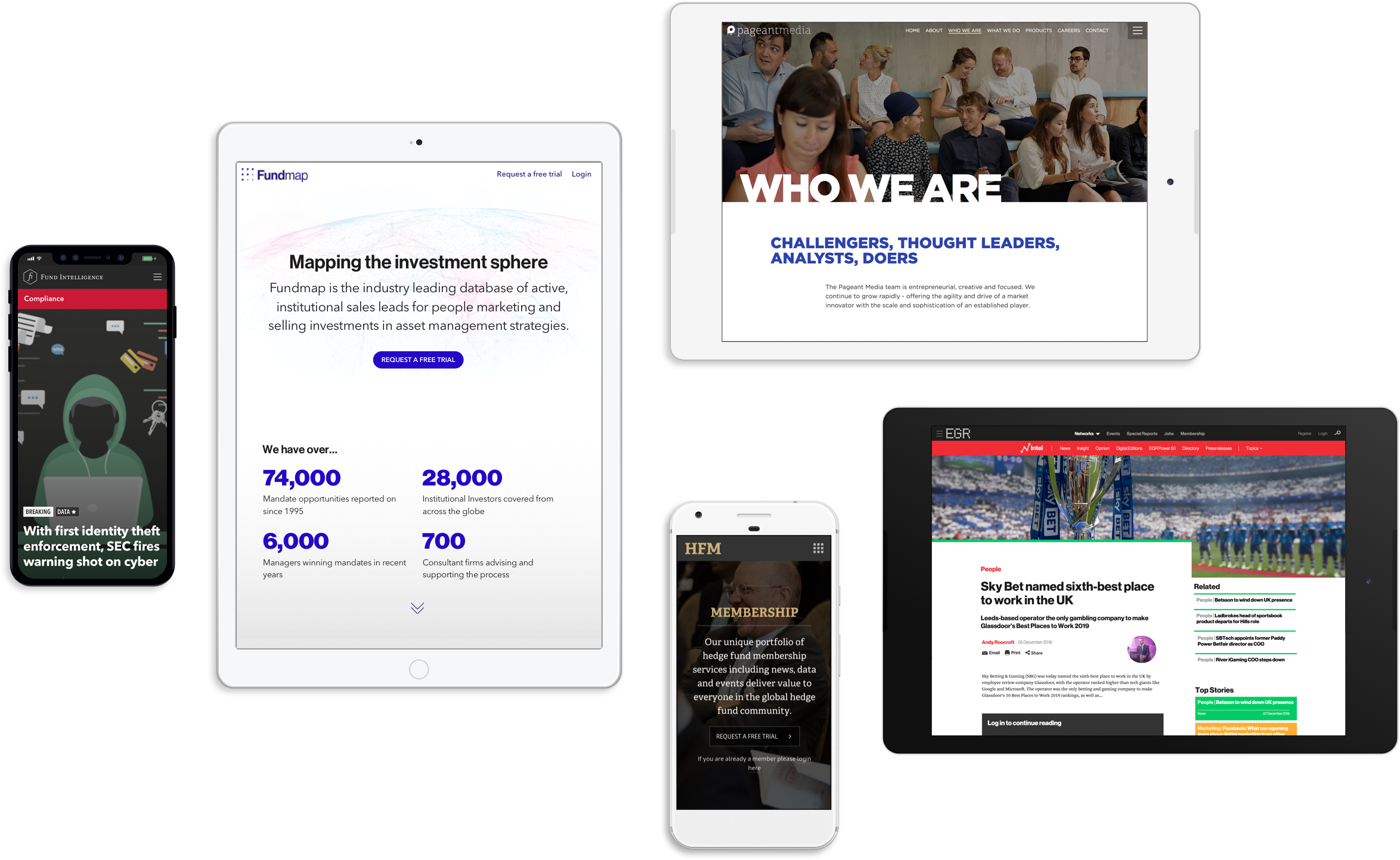 Capabilities for a new business landscape
Pageant Media is an innovative provider of global intelligence on finance sectors including hedge and mutual funds, real estate and insurance. Yet as a traditional B2B publisher, their business model relied on declining print and advertising revenues. Changing customer expectations demanded new channels, services and platforms, with richer, smarter content. With our help, they embarked on a seismic shift from a subscription mindset to membership service mode.
For over four years, Playfields partnered with Pageant Media through a process of "transformative evolution", beginning with a new group strategic framework. To capture the opportunities presented by their new membership model, we subsequently transformed each Pageant vertical with dynamic, digital-first branding and design; an informative, responsive digital ecosystem; and bespoke data products.
A unified strategy with a common platform
Initially, we gathered senior leaders in workshops to create a vision and define a unified group framework. Our Playback Method captured every idea, interaction and research finding. Potential paths and outcomes were played out early and transparently, with every direction we explored instantly visible to all stakeholders. Everyone could be up to speed at all times.
Research was fundamental to understanding each business within its context. To inform this, we performed deep research in London and New York without disrupting day-to-day operations. For each vertical landscape, we analysed market trends and site usage analytics; explored direct and indirect competitors to benchmark, auditing sites, services and print collateral. We repeated this for every industry vertical to build holistic market maps. At the heart of our research is a focus on the customer, so we visited several in their offices or by video call, attended events, and conducted focus groups and interviews. This research put us in an unrivalled, impartial position to advise and collaborate with Pageant's business units and steer each transformation in the right way.
Rebranding and digital ecosystems for every vertical
With the framework in place, we went deeper, vertical by vertical. Each had traditionally used the same subscription model; some had an events offering; all had antiquated, disconnected websites and brands. It was clear all verticals would benefit from a similar, scalable digital ecosystem, and that each had a common brand architecture and outputs which could follow the same transformation.
Working alongside fast-growing in-house teams and third-party providers, we helped deliver their vision with design suited to a digital-first, omnipresent intelligence provider. Capturing the essence of each brand was essential. Understanding what brands mean to customers and staff enabled us to reposition all Pageant Media brands to better connect with their audiences.
During our engagement, Pageant Media acquired new titles that we helped integrate into a new vertical, Fund Intelligence. This group, too, gained a new brand, ready for a digital-first world, and its own digital ecosystem.
Playfields took to time to really gain an understanding of our business and build relationships. They've consistently delivered high quality work, and have supported us throughout. They are enjoyable to work with and rightly take huge pride in their work.
Brand evolution and new online presence
We helped pivot Pageant Media's corporate brand, with a bold redesign, refreshed positioning, photography, messaging and copy to advance the group's mission and vision. The brand story now reflects the new positioning, values, products and services. It helps Pageant attract new partners, investors and talent.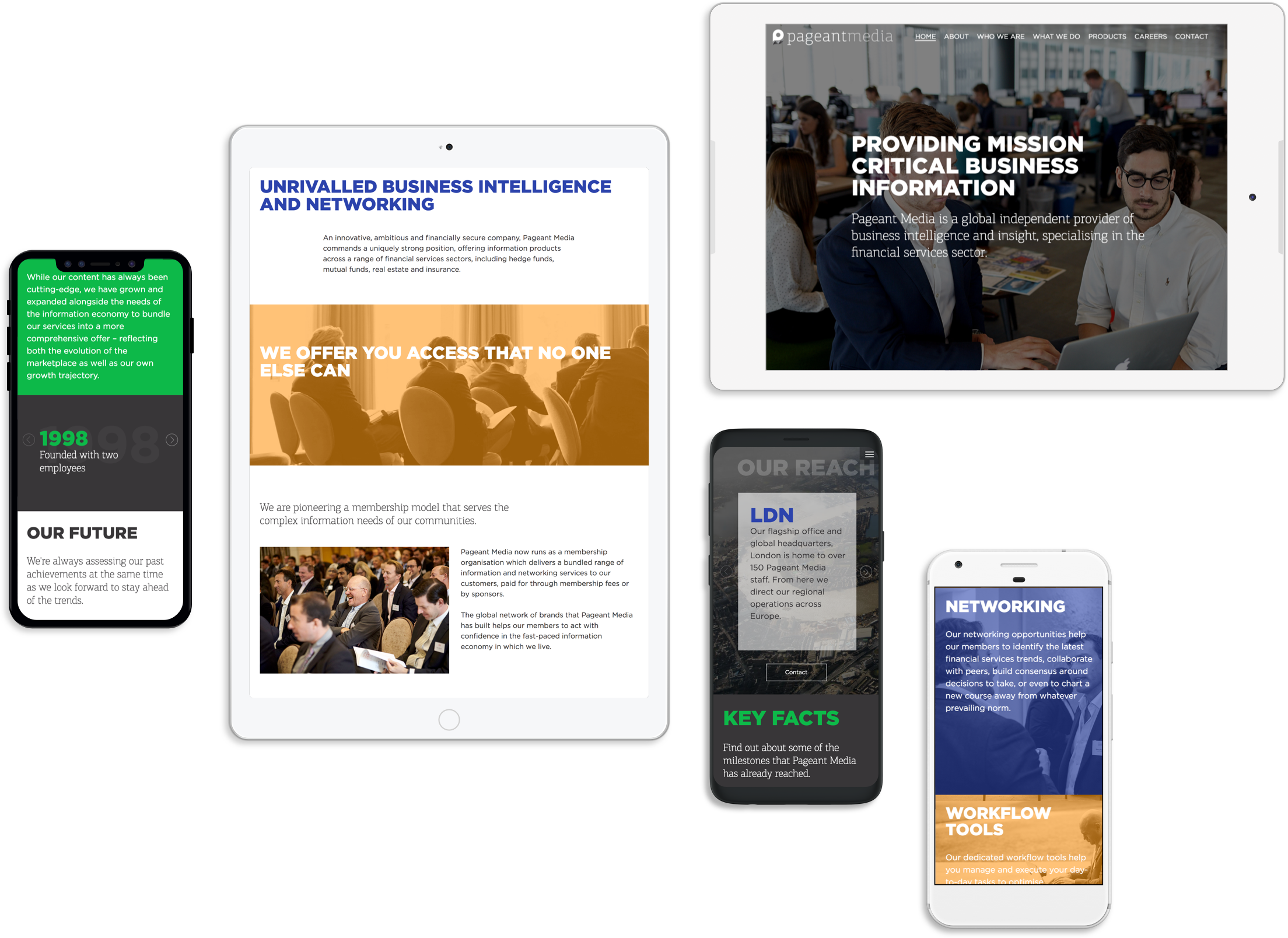 Working with the CMO, we devised a stakeholder engagement process for the C-suite. It led them on an interactive journey, opening up the different perspectives and needs of each department. These workshops enabled us to include a broad stakeholder group and capture their story — their work, values, culture, purpose, and impact.
We expressed these with a bold redesign, shifting their brand from standard to stand-out, and capturing the innovative nature of their people and working environment. We completed their shift in record time. The result has been positively received across the company — and recruiting top talent is now easier.
During our engagement, Pageant Media has doubled in reach and turnover. Their digital division grew from two to around 45 staff members. Each vertical now has a digital-first membership brand and a smart digital ecosystem delivering high-quality content. Members benefit from "always-on," informative ecosystems that seamlessly integrate ever-evolving content, data, events and specialist networking.
Pageant itself has a totally refreshed set of brand messaging and guidelines. Our work across storytelling, content design, photography and art direction, brand systems, pattern libraries, toolkits and front-end HTML presents a bold, consistent image to the outside world.
We continue to support Pageant Media in branding, service design and user experience. We identify challenges and opportunities, develop new revenue models, and provide timely solutions. We help them continue to grow.